YES! Our Exhibition got a new home! 
Blumauergasse 6, 2nd cort, 1st floor, 1020 Vienna– barrier-free access via elevator
We are happy to get in touch with you and can´t wait to welcome you!
Our office is only open to a limited extent during autumn holidays (from Thursday, October 26th, 2023 to Monady, November 6th, 2023)
For guided tours during the autumn holidays: please call us 0664 858 7545
For guided tours after the autumn holiday:  please choose the contact form below
Our exhibition HANDS UP will go on summer break on Saturday, July 1st, 2023 and will be back for you on Tuesday, September 12th, 2023. Of course, our office can still be reached as usual!  
We are pleased that you are interested in a guided tour and are looking forward to see you starting with Thuesdaym September 12th 2023. In order to process your booking request quickly, please be sure to use our contact form below.
We are happy to get in touch with you!
*1) We recommend guide groups up to a maximum of 15 people. This way we can guarantee that all participants have a good view of the guide and can actively participate in the exhibition program. If your group is larger, it will be divided and the second group will start about 20 to 30 minutes later. The tour lasts about 1 hour. During the waiting time the participants have the possibility to learn first signs or the finger alphabet.
*2)Based on the requested dates, availability will be checked. This is not a reservation or booking. Booking confirmations will be sent separately by email.
You can buy gift vouchers for HANDS UP, too.
You can buy gift vouchers for HANDS UP, too.
Click here to buy a ticket voucher via WienTicket. You can also download the print-at-home voucher template here. 
To get a guided tour during week, we kindly ask our visitors for reservation in advance via our contact form, so we can check availability.
Summer Opening hours:

Saturday., July 1st, 2023 – Monday., September 11th, 2023: closed
First day open: Tuesday., September 12th, 2023

Regular Opening hours beginning with Tuesday, September 12th, 2023
Tuesday to Friday: 09.00 am – 04.00 pm (last guided tour)
During week after 4 pm and Saturdays: on request
Monday, Sunday and public holiday: closed
External mission for an inclusive world
The HANDS UP team is on the road on behalf of our heart issues of inclusion, awareness and diversity. For this reason, the exhibition will be closed on selected days. The dates will be updated regularly and announced on our homepage.
Are you also interested in a workshop in your company? Then write to us:  office@handsup.wien
Your company and your employees will clearly benefit from a visit to Hands Up!
Because the shared experience strengthens the group. Because barriers in the mind are broken down. Because new horizons open up. Because it strengthens the courage to try out new things. Because diversity opens up new possibilities. Because creativity is given new impulses.
the Exhibition is coming to you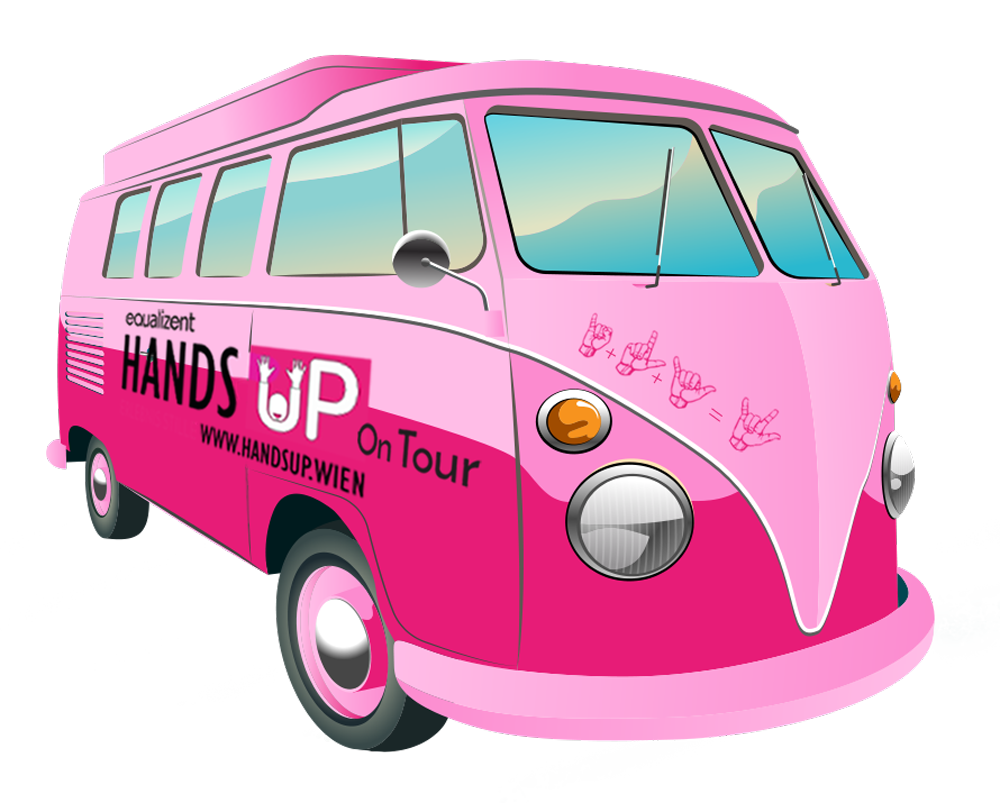 Combine HANDS UP On Tour with a sensitisation seminar or use the opportunity for your team building.
You want to get to know the world of deaf people? We offer you a temporary or permanent installation with our touring exhibition. HANDS UP On Tour adapts to local conditions and interests.
Combine HANDS UP On Tour with an awareness seminar or use the opportunity for your team building.
For more information, click »here« or visit office@handsup.wien
Exclusive guided tours specially tailored to your needs, without people from outside the group.
1 hour that belongs only to your group. The focus of the tour is exclusively based on your wishes, e.g. different thematic tours are possible such as LGBTQI+, cochlear implant (CI), deaf culture and history, racism and exclusion.
An exclusive tour can be booked for a maximum of 15 people.
Subway 
Line U2 Station: Taborstraße
Bus
Line 5B Station: Taborstraße
Tram
Line 2 Station: Taborstraße
The 2nd district is a short-term parking zone. There are only limited parking spots available.
We recommend travelling by public transport.