We are pleased that you are interested in a guided tour through our interactive experience exhibition! In order to process your booking request quickly, please be sure to use our contact form below.
We are happy to get in touch with you!
*1) We recommend guide groups up to a maximum of 15 people. This way we can guarantee that all participants have a good view of the guide and can actively participate in the exhibition program. If your group is larger, it will be divided and the second group will start about 20 to 30 minutes later. The tour lasts about 1 hour. During the waiting time the participants have the possibility to learn first signs or the finger alphabet.
*2)Based on the requested dates, availability will be checked. This is not a reservation or booking. Booking confirmations will be sent separately by email.
You can buy gift vouchers for HANDS UP, too.
You can buy gift vouchers for HANDS UP, too.
Click here to buy a ticket voucher via WienTicket. You can also download the print-at-home voucher template here. 
To get a guided tour during week, we kindly ask our visitors for reservation in advance via our contact form, so we can check availability. On Saturdays for private and individual visitors there is no reservation needed, just stop by and enjoy! 
Regular Opening hours: 
Tuesday to Friday: 09:00 – 16:00 (last guided tour). – with reservation in advance
Saturday: 13:00 – 16:00 (last guided tour) – possible without reservation
Monday, Sunday and public holiday: closed
External mission for an inclusive world
The HANDS UP team is on the road on behalf of our heart issues of inclusion, awareness and diversity. For this reason, the exhibition will be closed on selected days. The dates will be updated regularly and announced on our homepage.
Are you also interested in a workshop in your company? Then write to us:  office@handsup.wien
How does Sign Language work? How do Deaf people experience music? How do they manage everyday life? HANDS UP takes visitors on a journey into a silent world. On this journey, the beauty of Sign Language and the practice of non-verbal communication are explored, and visitors learn their first song in Sign Language, as well as some everyday signs.
"It's such a great experience."​  Irene N. 
from € 18,- per Person 
The exhibition is located in the 1st district on the Freyung, surrounded by a wide variety of restaurants and eateries to suit every taste.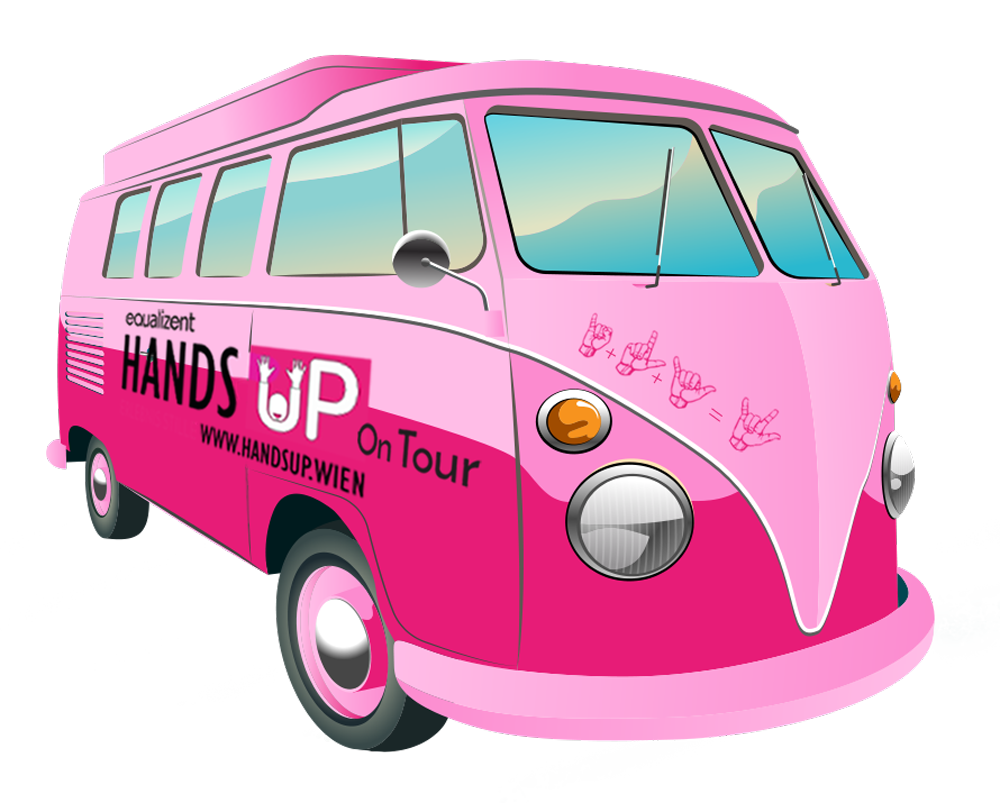 HANDS UP is mobile as well. We travel with the exhibition throughout Austria.
Give yourself and your employees the chance to immerse yourselves in the world of silence and to discover new ways of communicating at our exhibition.
During a one-hour tour, our deaf guides accompany you through the 4 rooms of our exhibition with humour. Your exclusive guided tour focuses on non-verbal communication between participants. It is all about being confident and not afraid of making mistakes, while creating shared memories. Our focus is on learning, gaining experiences and having fun.
Per Team € 295,-
Up to 15 people
Send us an email with your preferred date to booking@handsup.wien and we can check availability for you immediately.
We also recommend you visit:  

While you are at HANDS UP, why not also visit our partner exhibition "Dialogue in the Dark". You won't see anything at all there! Visitors are led by blind or visually impaired guides through completely darkened rooms to experience what is might be like to be blind.
Version 1: Station Schottentor
Take theU2, trams D, 1, 37, 38, 40, 41, 42, 43, 44; 1a, or 40a bus to the station Schottentor.Take the "Schottengasse" exit. Walk approximately 150m along Schottengasse (with your back to the big church / Votivkirche). Then turn left into Helfersdorferstraße and after 10m (right next to the Raiffeisen Bank), go through the small entrance into the courtyard of the Schottenstift abbey. Walk straight on for 70m – after the two beer gardens you can see our stairway on the left-hand side: you will find us one floor down, below the ground.
Version 2: Station Herrengasse
Take the U3, 2a or 3a bus to the station Herrengasse
Take the "Herrengasse" exit. After approximately 20m on the Fahnengasse (opposite direction to the underground exit), you will reach the Herrengasse. Turn right, and walk along the Herrengasse for about 250m (past Cafe Central). After the parking garage entrance, the Herrengasse crosses Freyung. You can see the Schottenkirche (on the right-hand side – a big, yellow church). Walk through the big archway on the left of the church into the courtyard of the Schottenstift abbey. Right afterwards, you will see our stairway straight-ahead (in the middle of courtyard): you will find us one floor down, below the ground.
Monday – Friday (working days) from 9am until 10pm, parking charges apply in the first district (parking tickets are compulsory and can be bought from tobacco shops (Trafik) or via mobile phone if you register at www.handyparken.at). Outside of these hours, you do not need to pay. Please read the "small print" on the road signs – some surrounding parking lots are reserved for residents.
On the crossing Herrengasse & Freyung, that is directly opposite of our entrance, there is a Wipark Garage. Parking costs 4 Euros per hour (information provided without guarantee!).
Dear wheelchair users, Unfortunately, we cannot currently accommodate wheel chair users as visitors due to technical reasons and requirements by the authorities. We are working on solving this as soon as possible.
We take great care to ensure our exhibition is fully accessible so that everyone – regardless of disabilities – can visit us. However, we would kindly ask you to let us know when booking so we can plan smaller groups if necessary.