The Covid 19 measures stipulated by the federal government apply. We can only allow entrance with appropriate documentation (tested or vaccinated).
We kindly ask you to make a reservation in advance.
The hotline is managed by our cooperation partner "Dialog im Dunkeln". So when booking, don't forget to mention that you want to visit HANDS UP. When booking, please note our changed opening hours.
You can buy gift vouchers for HANDS UP, too.
You can buy gift vouchers for HANDS UP, too.
Click here to buy a ticket voucher via WienTicket. You can also download the print-at-home voucher template here. 
We kindly ask our visitors to book in advance. The Covid 19 measures stipulated by the federal government apply.
Regular Opening hours: 
Guided tours for private and individual visitors without advance booking on the hour.
Tuesday to Friday: 09:00 – 16:00 (last guided tour).
Saturday: 13:00 – 16:00 (last guided tour)
Monday, Sunday and public holiday: closed
Please enquire for limited opening hours due to external missions:
30.01.2023
31.01.2023
13.04.2023 until 22.04.2023
02.10.2023 until 06.10.2023
13.11.2023 until 15.11.2023
Closed on Mondays, Sundays and on public holidays.
Further availability upon request. Send us an email or call:
Mail: booking@handsup.wien
Tel: 0664-858 7545
Closed on public holidays
Closed for out of town bookings
Special opening hours during the semester break for private and individual visitors:
Thurs., 09.02.2023 – Sat., 11.02.2023: Guided tours without advance booking on the hour between 13.00 and 16.00 (last tour)
External mission for an inclusive world
The HANDS UP team is on the road on behalf of our heart issues of inclusion, awareness and diversity. For this reason, the exhibition will be closed on selected days. The dates will be updated regularly and announced on our homepage.
Are you also interested in a workshop in your company? Then write to us:  office@handsup.wien
How does Sign Language work? How do Deaf people experience music? How do they manage everyday life? HANDS UP takes visitors on a journey into a silent world. On this journey, the beauty of Sign Language and the practice of non-verbal communication are explored, and visitors learn their first song in Sign Language, as well as some everyday signs.
"It's such a great experience."​  Irene N. 
from € 18,- per Person 
The exhibition is located in the 1st district on the Freyung, surrounded by a wide variety of restaurants and eateries to suit every taste.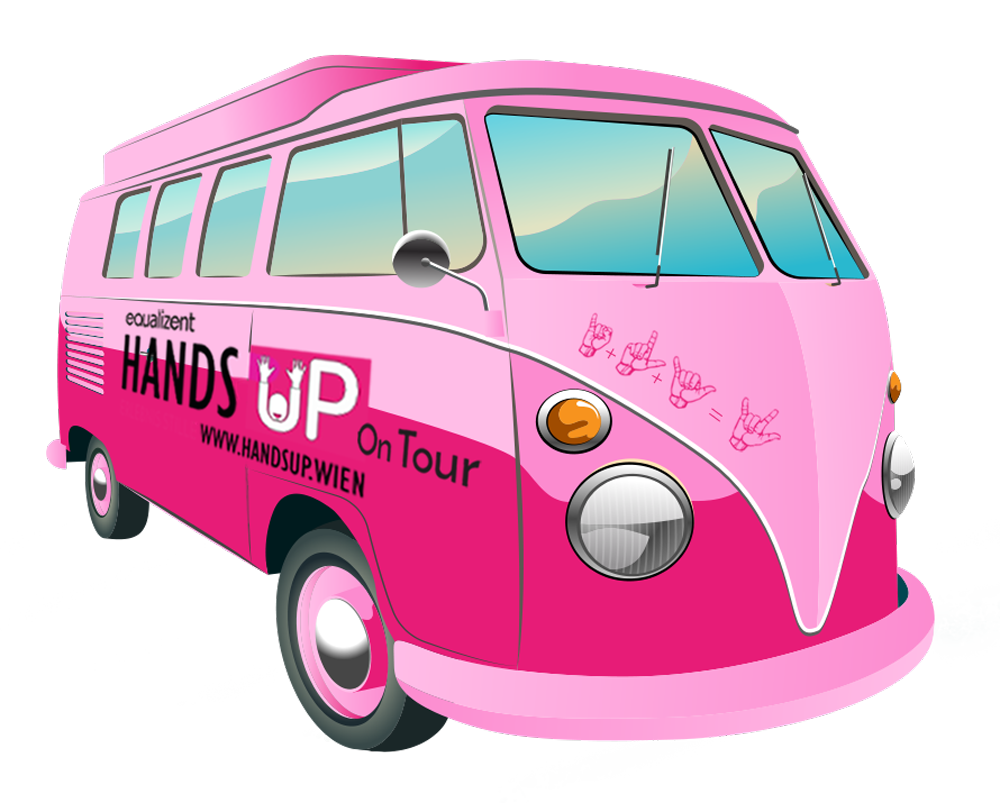 HANDS UP is mobile as well. We travel with the exhibition throughout Austria.
Give yourself and your employees the chance to immerse yourselves in the world of silence and to discover new ways of communicating at our exhibition.
During a one-hour tour, our deaf guides accompany you through the 4 rooms of our exhibition with humour. Your exclusive guided tour focuses on non-verbal communication between participants. It is all about being confident and not afraid of making mistakes, while creating shared memories. Our focus is on learning, gaining experiences and having fun.
Per Team € 295,-
Up to 15 people
Send us an email with your preferred date to booking@handsup.wien and we can check availability for you immediately.
We also recommend you visit:  

While you are at HANDS UP, why not also visit our partner exhibition "Dialogue in the Dark". You won't see anything at all there! Visitors are led by blind or visually impaired guides through completely darkened rooms to experience what is might be like to be blind.